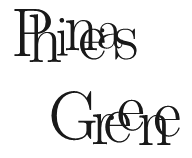 "Now this is what I call workmanship. There is nothing on earth more exquisite than a bonny book, with well-placed columns of rich black writing in beautiful borders, and illuminated pictures cunningly inset. But nowadays, instead of looking at books, people read them. A book might as well be one of those orders for bacon and bran that you are scribbling."
Saint Joan, Scene IV George Bernard Shaw, 1924
Typesetting
I offer typesetting services for things like papers, articles, or any other short to mid length literature. If you are interested in having your document typeset please email me at phineasgreene@outlook.com. My typesetting offers:
Versitile styling. I can do any number of styles from modern to Victorian.
Consitent, professional formatting. Your document will always have perfectly consistent formatting.
Powerful typesetting. I can include graphs, tables, flowcharts, images, and math.
Publication quality graphics. I can create everything from mind maps to automata and circuit diagrams.
Total cross platform compatability. My final product ships as a pdf file, meaning there is no variance between devices.
Embeded styling. All fonts and formatting are embeded, ensuring that no matter who views the document it will maintain consistency.
Perfect printing. I can typeset your document for any standard size paper (including legal) so that it will always print true.
Showcase
Items on the following showcase are examples of my pieces which I typeset. This showcase does not include work I have done for others.